We often put together evaluation frameworks as part of reporting to a funder, and these frameworks are often based on a funder's objectives. Evaluations can also be piecemeal - quite different from one project to the next – but approaching evaluation in a case-by-case way means there can be a lack of continuity of findings. Be bold! View each project you do as an opportunity to build up a coherent picture over a longer period of time.
For your current project, make sure you have clear aims and objectives. Identify these – perhaps in a simple table for clarity – and take them to discuss with your community partner or participants. Discussing these at the beginning ensures that the project concept and planning meets your original aims, but equally meets the aims of your partner.
If you are able to start this discussion early (even ahead of writing the funding proposal) you can bring shared aims for what you want to achieve together as the focus for your evaluation. Be mindful of time and resource your partner/participants can give at this early stage, but a collaborative approach ensures far greater buy-in from all stakeholders when it comes to capturing the impact and embedding the learning.
Top Tip
How about designing your own evaluation framework based on a long-term view of what you want to know. Ask yourself:
• What are your 3-5 year strategic goals as an organisation in relation to engagement?
• What are your longer-term objectives?
• Are there consistent lessons or questions you can ask of everything you do?
• How can you include different funders' objectives into this strategic framework?

Case Study from Explore Your Universe
Dynamic Earth and the Edinburgh Young Carers team identified that one main shared priority was to provide the young people with a fun opportunity for respite and family interaction. "As the sessions progressed, it was realised between us all that there was a lot of cross-over between STEM engagement practices and family development work."

It can be a very useful process to lay out your plan as a Logic Model or a Theory of Change. This can be a very simple document that sets out a list of your aims & objectives, inputs, processes, outputs and outcomes that you can refer back to. It is also worth considering the various influences, assumptions and risks that you should manage.
Top Tip
Whether you're making decisions about what you're measuring, how you're measuring them or who you're sharing the results with, keep asking yourself "who should be involved in this decision about the evaluation process?"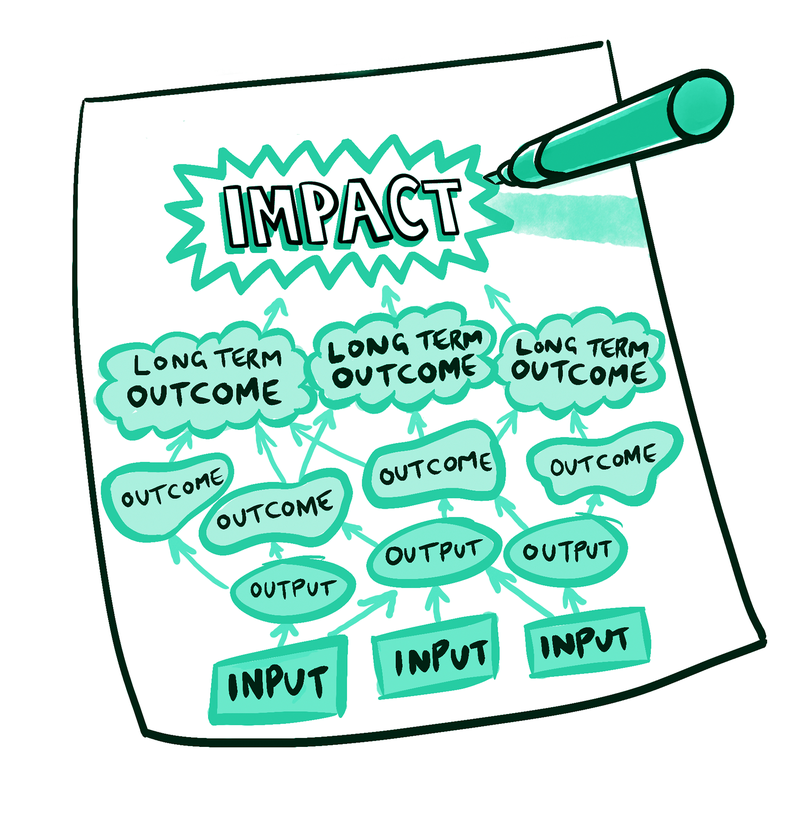 Be prepared for things to change, evolve and develop, especially where the relationship with the community partner is new and/or exploratory. It is worth ensuring you capture and communicate these changes for your evaluation. It is often the unexpected outcomes that provide greatest learning for project holders.
Evaluation is not just about accounting for your work, but also helping you do your job better and giving the time and space to reflect on your work and practice during your project. Keep processes iterative and stay honest and open about changes.
Evaluation is the way in which you can both prove and improve your practice.
Case Study from Explore Your Universe
Unexpected outcomes for Your Space and Xplore! Science and Discovery Centre included the way in which science helped one participant overcome his social barriers.
"At the start of the first session [community partner staff] told us to not expect one of the children to engage with us at all; "He likes to stay in the sensory room and do his own thing." It was such a fantastic surprise when he suddenly appeared next to us in the main space and excitedly took part in programming the robots, chatting to us about how much he loved science.
He remained engaged with all the activities sharing his knowledge and asking questions. At the end of the session [community partner staff] were so happy that he had not only spoken to us but had also interacted with the other children in the group."

Links and downloads
Download a printable copy of our Evaluation leaflet