For many informal science learning organisations, despite substantial support for EDI efforts within education, learning and public engagement departments, the shifts within wider organisations are less clear to see, and may be blocked by out-dated, systemic processes and policies.
Robust mechanisms for organisational communication and reflection need to be in place to feed valuable professional practice relating to equity, inclusion and engagement and participatory practice across other departments. This improves the holistic learning of an organisation, decreases the disconnect between departments and schemes of work and can influence future policy documents. Policies and strategies embed this into the day-to-day workings of an organisation and sustain change by committing it to institutional memory.
In my current role I am now focused more on creating a healthy, change-ready and reflective organisational culture. The content or theme of the change now feels much less meaningful – I don't want to focus on the new and shiny, but on the 'boring' structural issues that make change stick and embed.

Jo Bryant, We The Curious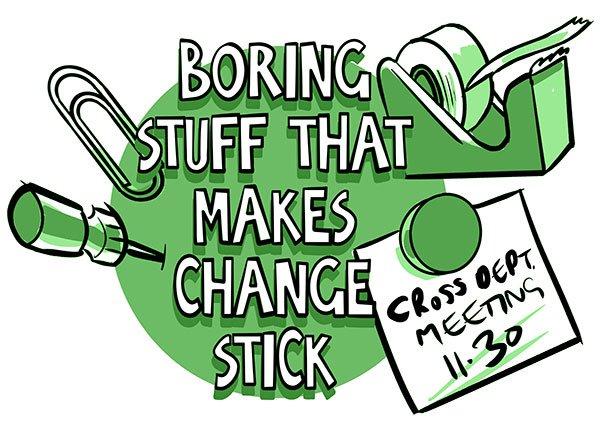 Mechanisms that support embedding change include such things as:
Full staff briefing and meetings
Effective trustee engagement
Processes for cross departmental working groups (such as EDI groups)
Long term and consistent planning approaches
The storing and sharing of information
Monitoring, measurement and reporting on impact
Offering suitable opportunity for staff from other departments to engage and reflect.
Case Study from Explore Your Universe
Alongside a fit with wider schemes of work, another opportunity for embedding this kind of work was provided by alignment with moments where science centres were discussing and developing new organisational strategies. In 2021, Science Oxford were developing their next five-year plan, which staff hoped would be informed by the experience of Explore Your Universe Phase 4.
During the 2020 lockdown, the urgency of revisiting organisational strategy documents increased these opportunities for embedded change.

This is not just asking 'how do we make inclusion work?'... in fact it's asking 'how do we make anything work in an organisation?'

I am interested in what the conditions are in which any change can be sustained.

Jo Bryant, We The Curious
The Inclusion wheel is a tool for organisational reflection. Developed for Explore Your Universe, it has since been translated into a number of different languages and used across Europe in a movement towards more equitable working in science centres and science museums within 'Ecsite' (the European network of science centres). A simple and enjoyable tool to use, practitioners within this programme discussed within their teams where they place themselves, and shared their reflections at the start and end of the project.
The most consistently and significantly increased areas of the Inclusion wheel, demonstrating a shift during this time frame in organisational practice, related to the following questions:
Does your content reflect the diversity of your organisation's catchment?
Whose responsibility is it to promote diversity, equity and inclusion in your organisation?
Who decides on the content of your events, activities and exhibits?
What mechanisms are in place to share the learning from events and activities within your organisation?
Is equity, inclusion and participatory practice referred to in your top-level statements (e.g. vision and mission or strategic objectives)?
The Inclusion Wheel is an excellent tool for organisational reflection. I used it with several centres, discussing all 12 spokes across different breakout groups. This encourages a more holistic understanding among staff and community partners of what EDI means in practice and how it impacts all parts of the organisation. It is a great way to start a conversation about where an organisation currently is and about achievable, incremental change.

Piotr Bienkowski, Director of Our Museum programme, cultural consultant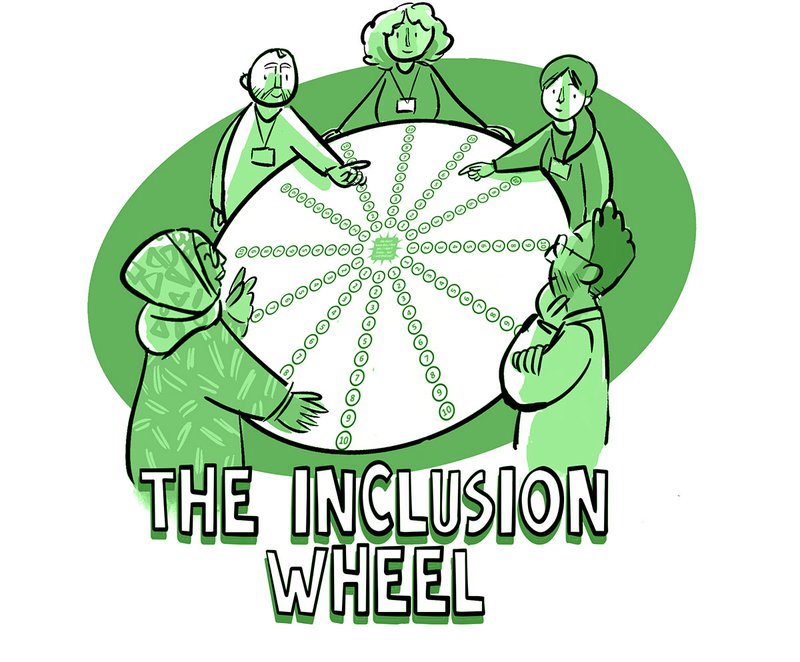 Areas that still demonstrated minor improvement across the project partners, but appeared harder to progress during this timescale, included the following questions:
Do your staff and governing body reflect your local community diversity in terms of genders, ethnic and social backgrounds and abilities?
How do you know your organisation is making an impact with this work?
How is your work partnering with local communities funded?
Does your science centre leadership champion equity, inclusion and your work with local and / or diverse communities?
It's certainly kick-started something that the Centre wouldn't have been able to do.

Practitioner, Cambridge Science Centre
Learning from the wider sector
The 'DiverSci' Framework (chosen to emphasise Diversity, Inclusion, Values, Equity & Responsibility in Science Communication) supports progression towards organisation-wide, long-term change. There are 5 key areas that European science and discovery centres and museums consider important to address in order to truly move towards becoming more diverse, inclusive, equitable and accessible organisations. These key and overlapping areas are Access, Content, Partnerships, Staff and Strategy. The framework can be found at diversci.eu

We had changes in our team and our partners during EYU4 and Covid caused disruption too. Yet, we have a flourishing and ongoing relationship with our community partner. We have a great dialogue with the community gatekeepers and we are still active in the community every week. The young people of that area are increasingly taking ownership of both STEM and the dynamic with our team.

Practitioner, Cambridge Science Centre
Every science centre (and practitioners within it) has learnt from this project about working with community partners and strategies for engaging with new audiences.

UCL Institute of Education, External evaluator Explore Your Universe Phase 4
Links and downloads
Download a printable copy of our Inclusion Wheel