They didn't just come in and get stuck in there. They'd come in and they took time to speak to them and get to know them and get to write down what their likes and dislikes were.

Community Partner, Wrexham (talking about Xplore! Science Discovery Centre)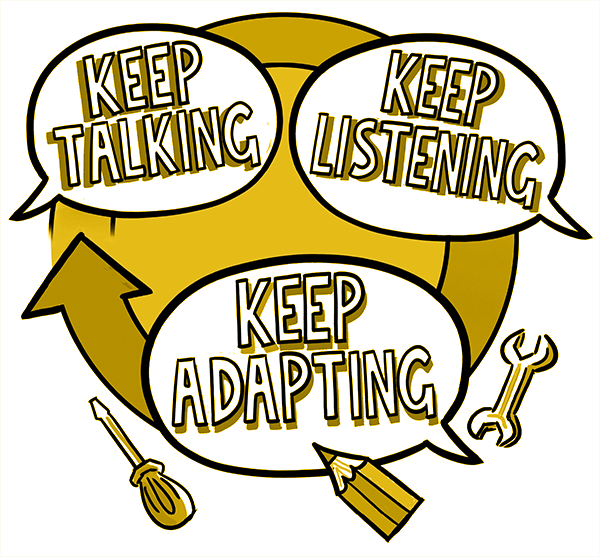 Be generous with your time and support them with their requests whenever you can.
Keep talking, keep listening and keep adapting. A clear emphasis on regular, open communication will allow you to be more flexible and responsive to the needs of your community partner.
Budgets, staff and priorities can change rapidly and dramatically. Within Explore Your Universe, the strongest partnerships were where science centre practitioners were constantly responsive, respectful and adapted around the needs of their community partner.
Top Tip
If resources allow at the start, set your STEM agenda aside and visit one of your community partners' events. This might be a celebration event, an AGM, or to observe one of their regular sessions. Getting to know them in their context and the way they work successfully with each other, will help you learn from their expertise and enable you to frame your interactions, as well as showing your commitment to the partnership from the start.

'Move at the speed of trust. Focus on critical connections more than critical mass – build the resilience by building the relationships.'

Adrienne Maree Brown, author, activist
Case Study from Explore Your Universe Phase 4
Edinburgh Young Carers, working with Dynamic Earth, noted that although their work together was 'a priority', other things that happened were simply more urgent. Dynamic Earth (and other science centres who felt they had successful experiences) reported that managing expectations and maintaining flexibility over what partners could realistically commit to was crucial. Internal communication within the science centre, museum or university (e.g. with all delivery staff involved) was also important so everyone interacting with the partner organisation understood their partners' challenges, aims and priorities.

Links and downloads
Download a printable copy of our Partnership Working leaflet