Phase 4 of Explore Your Universe signalled a radical and brave departure from the previous phases of this STFC-funded project.

Jen DeWitt, Senior Research Fellow, UCL Institute of Education
Explore Your Universe Phase 4
What initially began as a two-year national programme in 2012 working with 10 science centres, became a network of 23 science centre and university partners reaching across the UK. In the first phases of Explore Your Universe over 380,000 children and adults took part in bespoke workshops, family shows and activities that celebrated the amazing stories and technologies of STFC.
In 2019 the fourth phase of Explore Your Universe began. Explore Your Universe Phase 4 (EYU4) was now on a mission to matter to families who don't come through the doors of science centres and science museums, and for people who don't necessarily feel that science is 'for them'. With no numbers in its success criteria, STFC funds supported time to build equitable partnerships and allowed for learning to uncover the strategies and methods that truly involve our more underserved and marginalised audiences.
This programme was taking a risk. It did not commit to reaching hundreds of thousands of people across the UK. It gave science centres permission to fail-fast and learn-fast, to try different approaches and share what was not working. A huge enabler to this was the trusted relationship of long-term work between STFC and ASDC, built over a 10-year relationship, alongside a 'line-in-the-sand' commitment from STFC to work with 'Wonder' audiences and commit their pubic engagement resource to communities who were identified as under-served or marginalised by current science engagement activities.
Through working in partnership with the ASDC, Explore Your Universe has successfully engaged with audiences who have not previously engaged with Science Centres. Building effective collaborations with community groups, young people and families has provided a fantastic opportunity to inspire all, by sharing the amazing stories of science and technology supported by STFC.

Neville Hollingworth, Public Engagement Manager, Science and Technology Facilities Council UKRI
The foundation of the engagements within EYU4 was the building of relationships, understanding and trust between science centres and community partners. In addition a commitment to a multiple-engagement model – engaging with the same families many times for more sustained impact - enabled science centre practitioners to step out of the usual routine of scripts or set shows, and use their knowledge and exceptional skills in science engagement to take a more co-developed and participatory approach. The aim was STFC science engagement that was audience-centred and relevant, driven from the interests and experiences of the participants.
The programme aimed to support the dimensions of science capital for families taking part, where outcome measures focussed on aspects of inclusion such as agency and belonging, identity and connection
to science.
EYU4 defines good and meaningful ways to engage the community with science... rather than 'parachuting in' with some STFC science, it is the opportunity to focus on how to build genuine relationships with communities.

Practitioner, Techniquest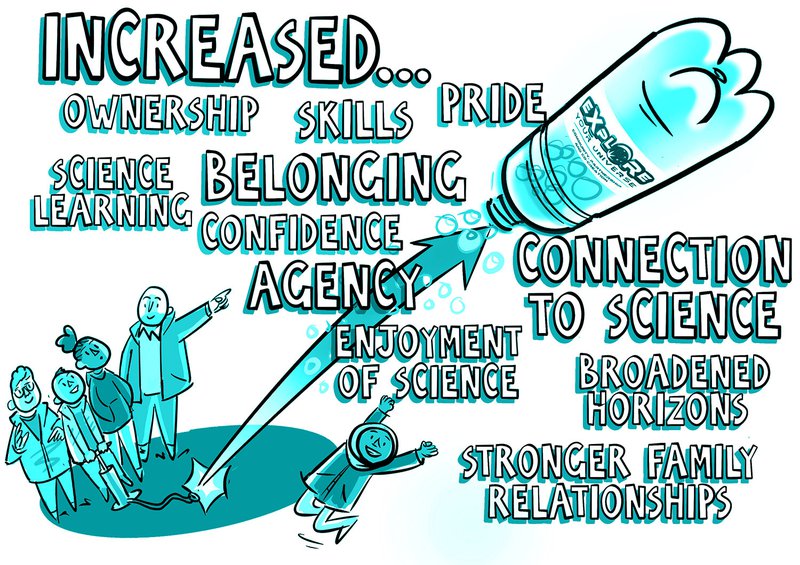 For science centres, the project provided clear methodology and requirements that platformed the EDI agenda amongst a maelstrom of competing strategic priorities, particularly during the project period that spanned the 2020 pandemic lockdown. Evaluation and reporting promoted reflective practice for practitioners – with their community partners and across science centres – in order to identify and nurture positive change and learning for the whole organisation.
Explore Your Universe leveraged the assets and expertise of the science and discovery centre network. Resourced not only with accessible and captivating exhibitions, activities and professional communicators of science, science centres are also values-led and purpose-driven organisations. Embedded in their regions, they connect science industry, education, policy and communities with partnerships that have been built through years of place-based understanding.
In the UK, EYU4 represents a giant leap in the progression of science centres here toward being equitable, inclusive spaces/organisations where individuals and families from a range of communities and backgrounds can feel welcome and participate in science on their terms, being supported to take action on issues that matter to them.

Jen DeWitt, Senior Research Fellow, UCL Institute of Education
Our responsibility now rests with evidencing depth of impact, advocating for the inspiring practice, and sharing our learning – warts and all! This is where our Inclusion handbook comes in. Our programme focussed on science centre – community partnerships and the learning from this 3.5 year programme (from kick-off to final reporting) is distilled here into 4 main areas that we believe have relevance beyond our distinct sector:
Working in partnership
Strategies for engagement
Evaluation in practice
Catalysing organisational change.
There is an ambition among science centres, which could also serve as a model or vision for the wider field, to build upon the place-based knowledge and partnerships developed in this project to become true community resources - meaningful in their regions for those who do not feel that science currently is relevant or something 'for them' and pushing towards a far more equitable STEM landscape for the future.

Jen DeWitt, Senior Research Fellow, UCL Institute of Education